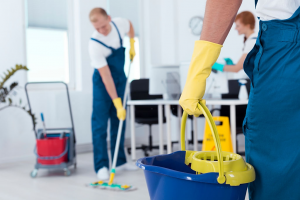 Busy Bee Environmental Services is a minority-owned and -operated facilities management services firm that currently manages over 7 million square feet of property throughout the D.C. metropolitan area.
Founded in October 2000, Busy Bee prides itself on outstanding client relations, customer satisfaction and a corporate culture dedicated to excellence. In fact, we are proud to acknowledge that we have provided continuous service to the first commercial contract awarded to Busy Bee over two decades ago. This longstanding commitment is a true testimony to the enduring quality of our service.
Busy Bee services a diverse portfolio of properties for clients in the commercial; government; education; retail; recreation; hospitality; aviation; and technology industries. Buildings currently managed by our firm range from 10,000 to 2,000,000 square feet and demand an expansive range of janitorial and facility maintenance services, which Busy Bee is thrilled to provide through its expansive menu of service offerings.